#6 | Rapopros of Nothing
Building a national food service, remembering that brands are not friends, and renovating a burning house
Hello. Thanks for being here.
This is the sixth edition of In Digestion, a weekly survey of the best food media on the web, and why you should care about it. If you like this newsletter, please follow @in_digestion on Twitter, and forward it to a large number of people. It should feel like too many. It won't be enough. Thank you.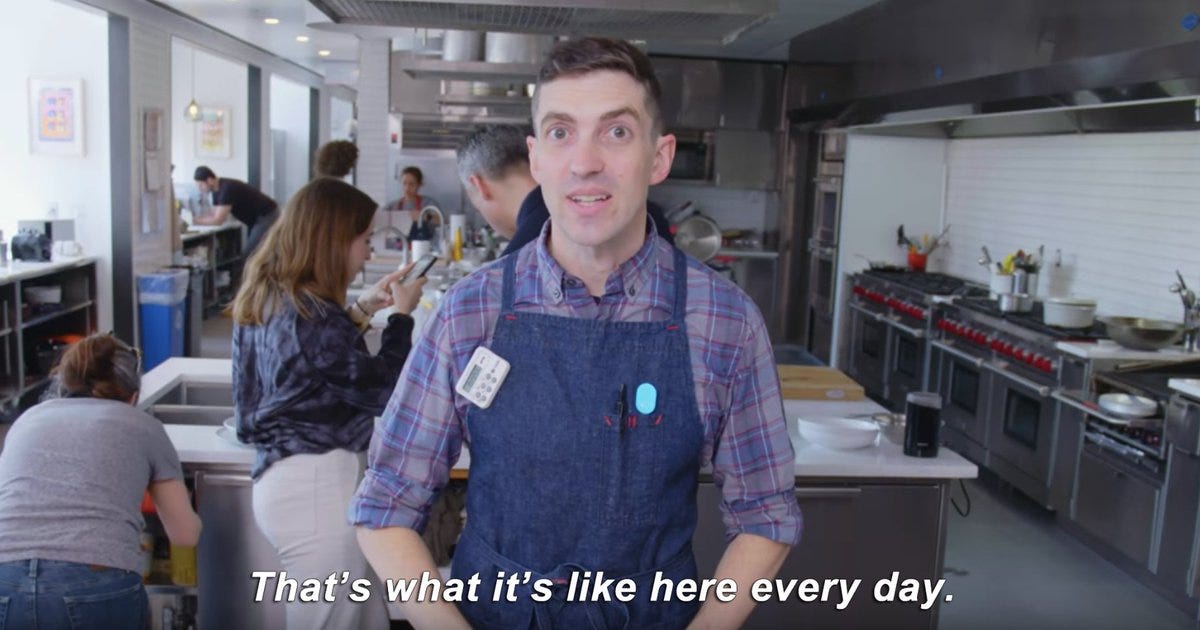 Out of Context Bon Appetit Test Kitchen
Three weeks ago, Tunde Wey asked a question.
"Can you renovate a burning house?"
When writer Tammie Teclemariam shared a picture of ex-Bon Appetit editor-in-chief Adam Rapoport in brownface, she lit a fire in the house, and kept it burning with her unwillingness to let Bon Appetit leadership and Conde Nast executives get away with it like the problem had suddenly been fixed with Rapoport's resignation. When writer Illyanna Maisonet shared screenshots of Rapoport's attitude to her seminal work on the food history of Puerto Rico, she lit a fire in the house, and kept it burning by focussing on what it meant for the magazine's attitude at large. When current and former BA staff Sohla El-Waylly, Christina Chaey, Jesse Sparks, Joseph Hernandez, Priya Krishna, Nikita Richardson, and Alyse Whitney shared their testimony, personally and with Business Insider, they lit a fire in the house. And this was testimony, not revelation — it took place, the magazine perpetuated its conditions, and it caused deep harm.
Fires were lit, but the house was already burning. And Bon Appetit's leadership team had said: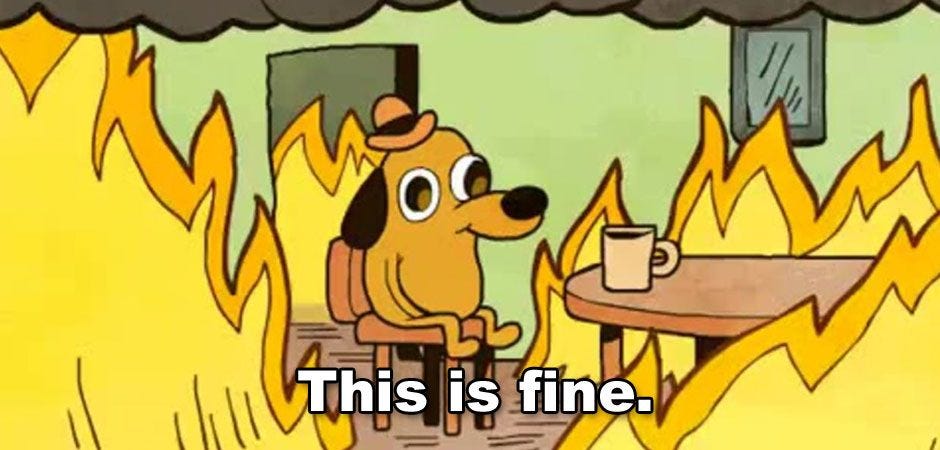 Food media has always been a burning house; it's just been burning hotter for some than others. And as it turns to analyse the ashes of Adam Rapoport, it bears repeating that the fire at Bon Appetit and countless other institutions is still burning, with staff — disproportionately BIPOC staff — having careers go up in smoke while leadership — disproportionately white leadership — sits sipping its coffee as flames lap tamely around their ankles.
What lit the biggest fire? The killing of George Floyd and the wave of police brutality and protest against it that followed, a movement against systemic racism and hollow solidarity. Osayi Endolyn lays it out clearly:

With Rapoport gone, there could be the chance to let Bon Appetit burn down for good in every sense. But meanwhile, staffer Alex Delany is — apparently — yet to be disciplined for displaying aggressive homophobia and racism. It took a backdrop of police brutality, protest, and years of work and testimony to lay bare the culture of one vastly popular (to whom?) food magazine and oust one editor-in-chief. It's progress. It's also deeply insane, and the system that produced such conditions now needs to ask if it has the range to analyse its own downfall.
To answer Tunde: You cannot renovate a burning house.

All existing and new paid subscriptions to In Digestion through June will be donated to support networks and organisations in the U.K. and USA. I am also setting up a recurring donation for each month after that. If you are able to donate right now, please consider the following organisations:
https://www.communityjusticeexchange.org/nbfn-directory
https://secure.actblue.com/donate/bail_funds_george_floyd
https://www.reclaimtheblock.org/
https://www.theblackcurriculum.com/our-work
---
Osayi Endolyn asks why dining experiences draw people back for The Oxford American. Filmed before the novel coronavirus pandemic, it takes on both an elegaic and hopeful tone — this was why people go back, and this will be why they go back, when they can. "Technique, and skill, and discipline, and the thoughtfulness behind the balance" don't just apply to a dish of barbecue shrimp toast at New Orleans restaurant Willa Jean, but to the work of chef-owner Kerry Fields: in making a restaurant that is "always different, but always the same." The dish also becomes a joyful touchpoint for first-timers and regulars alike, as Endolyn finds at NOLA institution Dooky Chase and newer favourite Heard Dat Kitchen, in a city where tradition can be "sometimes challenging to overcome, but when the opening happens for people, can be very powerful." The coming back is also, always, a new arrival.
---
Bettina Makalintal surveys the fragmented ruins of the Bon Appetit Test Kitchen for Vice. There's an unavoidable Spiderman pointing at Spiderman undercurrent to media reporting on resistance to and exposing of structural racism in the wake of police killing George Floyd in Minneapolis, but Makalintal situates her analysis in that very disconnect between the Test Kitchen's utopia and reality. It was no place, after all, relying on a stan culture to erase the fact "that the Test Kitchen is just that: a workplace, like that of any other large—and therefore likely imperfect, if not problematic—institution." Makalintal unpicks how the "Test Kitchen's gargantuan online presence overrode its offline truth, as it projected and leaned into what people wanted to see" — and in so doing made both explicit and implicit exactly what kind of people it wanted to see it.
---
Soleil Ho takes another angle for the San Francisco Chronicle. "Bon Appetit staff, emboldened by the cracks in the dam, made public statements saying that the photo was just the tiniest indicator of a much deeper culture of white supremacy that Rapoport and his administration facilitated at the magazine." The cracks in one dam damn (sorry not sorry) many others: "the way its sausage gets made looks a lot like how it gets made in the rest of the food media," as with the Test Kitchen above, is as much about what it excludes and deems inedible as what it deems worthy. That writing articles about tofu being "bland" is still going on in 2020 makes Ho's point quite neatly. Even more pressing is the future: how to remap a normal point of view that is a thinly-veiled code for white supremacy, and how to do so in a way that doesn't "happen at such a steep price."
---
Nicole Taylor commemorates and complicates Juneteenth for The New York Times. When "revelers share the ruby-hued foods of the holiday: fiery sausages, watermelon-scented shaved ice, juicy stone fruit cobblers and barbecue" in six days time, it will remain a "a symbol of unfulfilled promises." While Taylor recognises the both raw and deep-seated need for mourning and anger, situating Juneteenth as a "continuation of the legacy of resilience, and a reminder of a people's ongoing anguish," that resistance can be joy, can be eaten, can be drunk. Between "fried green tomatoes, okra rice, peach pies [and] hot peppers," there is also "a moment to exhale."
"Carving out time for jubilant deep breaths is medicine."
---
Emma Latham Phillips looks at how a national food service would be a benefit to all in the U.K. for Huck. While clear that government-sanctioned "food insecurity is not a new issue," Phillips highlights how the novel coronavirus pandemic has caused new inequities as well as exacerbating old ones. A National Food Service would mean "a mass re-introduction of affordable public eating spaces that are government-supported and community-run … much more than the passive receipt of a free benefit." Phillips is alive to the history of the movement and its contemporary germinating in local initiatives, as well as to its emphasis on genuine, thoughtful service to a community. Pair with Jonathan Nunn's excellent thinking on the same subject, in The Guardian.
---
That's all for this week. Before the next edition, why not learn to temper chocolate and thereby be more qualified than most of Bon Appetit, learn how to topple an obelisk, or subscribe to Extra Spicy. Oh, and please forward this to those three friends and one nemesis. Or just, like, everyone.